Split Decisions | Karmen Karma | Wenona | Jack Hammer
Aug 5, 2015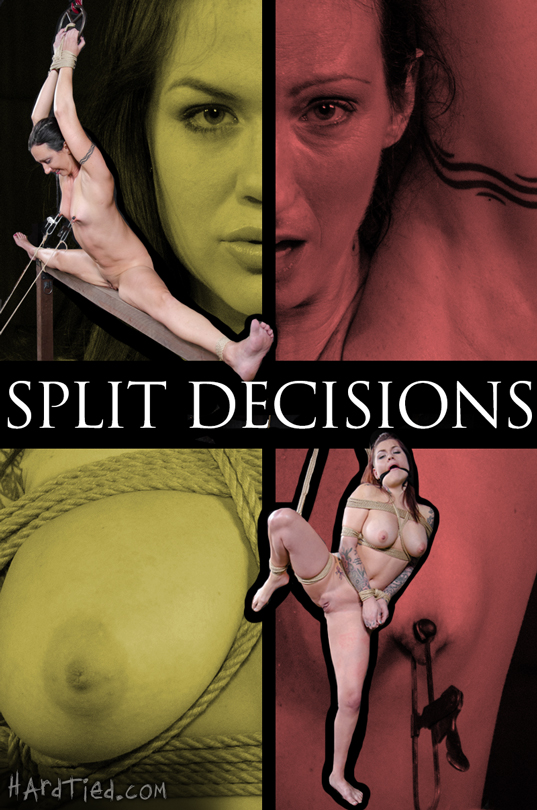 Toys wear out. Players are always good to go. Karmen Karma is the first fun, little thing that Jack Hammer is going to play with. He goes hard on her right away, putting her into tight rope bondage and then giving her some time with the Hitachi. It loosens her up a bit so that when he stands her up she isn't expecting the corporal punishment that comes next. She figured that orgasms would come last and she was home free. Not the case. As soon as she was done getting off the cane come out and it was Jack's turn to have fun.

Wenona is his bondage doll for round two. She patiently waited her turn and for that she's going to be rewarded with a harsher version of the same treatment Karmen took. She gets to cum nice and hard before Jack has her doing a split so his cane can caress the insides of her thighs in its own special way. Just like Karmen, Wenona is completely unprepared for it but that doesn't mean that she won't enjoy the pain.
Two for one as Wenona and Rain
DeGrey are bound, hung upside
down and roughly fucked by
BBC! | Rain DeGrey | Wenona | Matt Williams | Jack Hammer


Jul 24, 2015


183 Images • 13:29 Min Video

Double trouble with inverted suspensions rough fucking and punishing deepthroat

When you get two experienced bondage sluts like Wenona and Rain DeGrey, you are guaranteed to have a memorable time. These two like it as hard and rough as we can possibly dish it out and today we are upping the ante. You have to pull out all the stops to get their attention. Stops? Pulled.

Wenona is blindfolded, gagged, bent over and bound to a wooden frame. a position that perfectly displays her toned ass. The gag and blindfold reduce her down to a pussy for the use, just a warm hole and nothing more. To spice it up a bit, we hang Rain DeGrey upside down off the ceiling with a vibrator and dildo combination stuffed deeply inside her shaved pussy. Rain and Wenona's heads are lined up side by side, one just a mouth and one just a pussy. A fine collection of holes indeed.

Back and forth the hard dicks tag team on both sides of our tied up sluts. Mouth, pussy and back again as we so desire. Rain chokes down the 10 inch BBC as her inverted head reddens with the strain. Delightful gurgles leak past Wenona's gagged mouth as the cocks slam home. She can not see a thing, her world is just pure sexual sensation and tight bondage.

Our bound fuckpuppets take every inch of the dick balls deep. This is their happy place, what they were made to do. We leave them dazed and gasping in their ropes, drool and their own juices flowing from their worked over holes. It is the proper treatment for bondage sluts like these two...




Fit MILF Wenona belted in
strict bondage and roughly
fucked with BBC, brutal
punishing deepthroat! | Wenona | Matt Williams | Jack Hammer


Jun 29, 2015


122 Images • 12:60 Min Video

Toned tattooed MILF bent over in bondage and used hard from both ends

Wenona has been around the block more than a few times, and has been modeling for years now. It was only recently that she finally decided to try her hand at b⁄g, after an entire career of avoiding the dick on camera, but she has since more than made up for lost time. She has hit the ground running and is trying to get her hands on all the dick she has missed out on over the years.

Bound down with belts and shackles onto a custom made wooden fuck table, both ends of Wenona's toned and muscular body are wide open and ready for access. A generous coating of baby oil brings out the shine to Wenona's flawless ass. That shaved pussy and pouty mouth call out for the cock and we cheerfully oblige. Two hard cocks step up and tag team Wenona's bound body until her teeth are rattling in her skull.

This is what she came here for today. To be completely destroyed by dick. We are nothing if not givers and dish out the dick until Wenona is a drooling, cross-eyed muttering cummed out bag of fetish model. She is blasted into sexual subspace as orgasm after orgasm rip through her restrained body. There is no escaping the sensation of being completely owned by cock.

We do not let up until Wenona has been dicked down so hard that she can barely lift up her head. Her makeup is destroyed and her face shines with her own juices. That is how you sexually break a bitch. You are very welcome my dear...
Fit MILF Wenona strictly
restrained and does epic
brutal drooling deepthroat on
BBC, cums hard! | Wenona | Matt Williams | Jack Hammer


Dec 29, 2014




Toned cockslut ziptied to a bed and throat trained on huge black cock

Wenona is a bendy little slut with a very experienced throat. We love binding her down, oiling up her muscles until they gleam and then stuffing her full of dick until her eyes bulge and she drools like a leaky faucet . Which is exactly what we plan on doing today. What a lucky little pet this one is.

Harshly bound with black zip ties on a cold metal bed frame, Wenona's head hangs over the edge. It is the perfect position to open up her throat fully to the cock. Her legs are spread wide open and a vibrator and dildo are jammed up firmly against her tight shaved pussy. A dusting of baby oil makes her toned flesh gleam and a blindfold cuts off all vision. Our throat slut is ready.

We switch on the vibrator and get to work. One after another the hard cocks make full use of her mouth as our flexible MILF sputters and moans. She looks good. And she looks even better with cock deeply wedged in her face pussy. We rip off the blindfold so we can see those big eyes and then keep on going. All the while the vibrator and dildo is working their magic on the other end. The tight bondage keeps her firmly in place as she loses her mind.

The orgasms, strict bondage and cock overload does the trick, reducing our fit fuckslut to a dazed puddle of flesh. Her eyes are distant and glassy and drool pours out of her pounded out throat. It is a good look on her. Always a pleasure Wenona. We will have you back soon my dear….
Flexible Wenona bound in the
splits and used by big dick
from both ends, bred with epic
deepthroat! | Wenona | Matt Williams | Jack Hammer


Dec 5, 2014




Bendy slut bound down tightly in the splits and filled full of hard cock until bred

Bendy tan Wenona loves the cock. She loves the attention and she loves being stuffed full of dick while restrained in strict bondage. Wenona is not just any slut however, she brings unusual flexibility to the table and today we plan on taking full advantage of that fact. We bind her down with belts onto a custom made wooden table set up at the perfect fucking height. Her long legs are split open wide, showcasing her pink shaved pussy.

The bondage keeps that flawless ass open wide on one side and that well trained throat hole exposed on the other end. Two hard cocks walk up to our bound slut and turn her into a sex sandwich. The strict belt bondage keeps her firmly in place and moans and drool pour out as the cocks slides in. Wenona's toned body twitches as multiple orgasms wash over it.

10 inches of BBC slam home balls deep in her tender pussy before switching over to her mouth hole. Wenona washes her own juices off the dick with her mouth. Back and forth the cocks swap, tag teaming down her eager holes. The tight pussy does the trick as one after another they fill up that flexible cunt with creampie.

We are still not done however, and use that hard earned cum as lube to finger bang out one last orgasm while vibrating her. Wenona is an undone drooling mess, her mouth open wide and gasping. We walk away, shutting off the lights and leaving our worked over fuck toy moaning in the dark.